Wicked and Beautiful Garden Book Review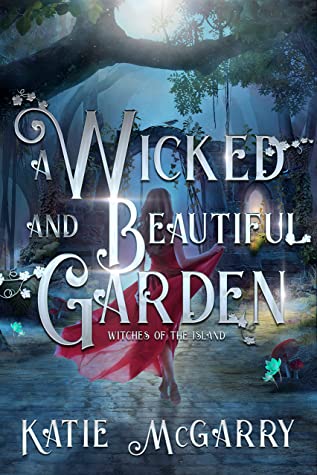 Hi everyone! Today I have another book review, and I am so excited for this one because I have read every single one of this author's book. They are always so good! I have also been on a reading grind lately, and I'm loving it. I feel like I haven't been on one in a while. But anyways, that's enough of an introduction. Let's just get right into it.
I just recently finished A Wicked and Beautiful Garden by Katie McGarry and let me tell you it was good. To start, this book follows Cassie, a young woman, who has been living her life in a quiet town as a mid-wife/nurse. She's also an empath which means she can feel others emotions as if they were her own. She finally has her life under control and no longer needs to worry about abuse or the paranormal world. She thinks she has left it all behind her. However, she keeps having dreams of a baby asking for help. And when the dreams start happening more frequently, she runs into her ex-boyfriend from nine years ago, Orion. He is a fae warrior who has sworn to protect earth from demons. He is on the hunt for a baby who is supposed to be the new Fae Queen. They both need each other to find the baby. This book involves witches, angels, demons, and fae. There is so much action and romance that I never wanted to put the book down. There was always something happening.
This book is very different than the usual contemporary fiction McGarry usually write about, but I think this book is a great foundation for the rest of the series. From what I can tell there are going to be at least two books. The second book is tilted, A Stormy and Sultry Sea which you can pre-order now! I'm not sure the exact date it comes out, I would assume towards the end of the year or early next year.
Anyways, back to this book. One of the things I really like was that this book was a great set-up/building block to the next book. You still don't know everything that's going to happen. There are still so many open questions which is what makes you want to continue the series. I think McGarry has taken the reader far from the beginning and has evolved the story in such an easy-to-follow way. There wasn't too much world building or characters thrown in where you became confused.
I also think the main characters were relatable and developed. Sometimes, you get characters that are so annoying and static that it makes reading the book so much harder. I want the main characters to grow into themselves and to become confident and be able to fight their own battles especially when they couldn't before. I love seeing that change. I feel like Cassie and Orion had this change. Cassie more so than Orion. Also, Orion has two best friends/brothers/warrior comrades that he confides in and hangout with, Mercutio and Shaw. I feel like they could've been a little more developed. Besides from their psychical description and knowing they are warriors, there isn't much to them, in my opinion. Other than that, I really liked the characters the author created.
If you're looking for a fast read, I recommend picking up this book. I finished it in less than five days. It's only a little more than 300 pages which isn't bad at all. It's easy to read and follow. Overall, I would give this book a 3.5/5. I am definitely going to continue the series. I need to know how things are going to end.
This book comes on May 5th! You can pre-order now or buy day of, but I highly recommend checking it out!
Thank you for reading and come back next Tuesday for another post!