Where the Crawdads Sing Book Review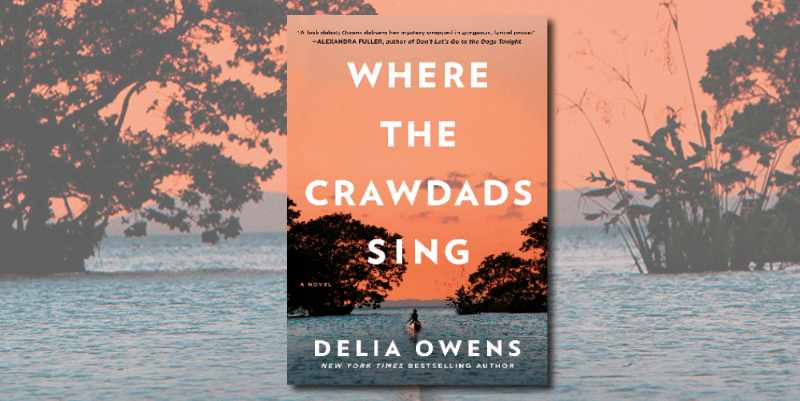 Hello everyone! Welcome back to Cover to Cover! Today, I want to talk about a book I'm pretty everyone has heard of by now, Where the Crawdads Sing. The movie is actually coming out this Friday! I really want to see it and that's mostly why I read the book (but also because this book has been recommended to me time and time again). So, let's get into it!
I really didn't know what to expect when I started reading this. I knew there were aspects of a murder mystery but that it was also a coming of age story. To give some background for those who forget or don't know, this book is about Kya who was just a little girl when her entire family left her (one by one) in the woods. Everyone in town knows her as the Marsh Girl. She mostly keeps to herself and only goes into town when she needs to. The only person she really talks to is Jumpin' who she sells mussels to in order to make some money.
But then there's Tate. Sweet, boy-next-door, Tate. He looks out for Kya, teaches her how to read, brings her books and sometimes supplies. Then he leaves for college and Kya is left on her own again. As the story goes on, you watch Kya grow up and take care of herself and the Marsh. We also meet Chase Andrews, who is the typical, popular football star who thinks he can get any girl he wants. Then one day, Chase is found dead in the Marsh. Everyone is quick to point fingers at Kya and a trial unfolds.
I don't want to give too much away, but there is a lot that happens in this book. It's not a very long read, but I wouldn't say that it's a quick and fast read. It took me a couple of days to get through this. The beginning is kind of boring, but it really started to pick up (for me at least) when I saw more of her and Tate together and of course, when the trial was happening.
The beginning did remind me a lot of Huckleberry Finn which don't even get me started on that book. That made me really nervous because I hate that book. It's safe to say I don't hate Where the Crawdads Sing.
I really liked the characterization of Kya. She's very headstrong and will stand up for herself. Even though she's kind of naïve in the beginning, she does what she needs to survive. It's realistic the way it is written, and doesn't glamor the fact that Kya is in a really tough situation.  
Owens also included so many beautiful descriptions of marsh life. It makes Kya's world seem so colorful and lively even though it's just her taking care of her little shack her parents left.
Overall, it was a very moving and touching story. I would definitely recommend, and I would rate it 4/5 stars.
I'm really excited for the movie. It's been awhile since I've read a book and then watched the movie respectively. I saw some mixed reviews on Tiktok from people just analyzing the trailer. I think overall, I'm going to like it. Like I said, it comes out this Friday!
Alright folks, that is all I have for today! Come back next week for another blog post! As always thank you for reading:)