Throne of Glass Series Review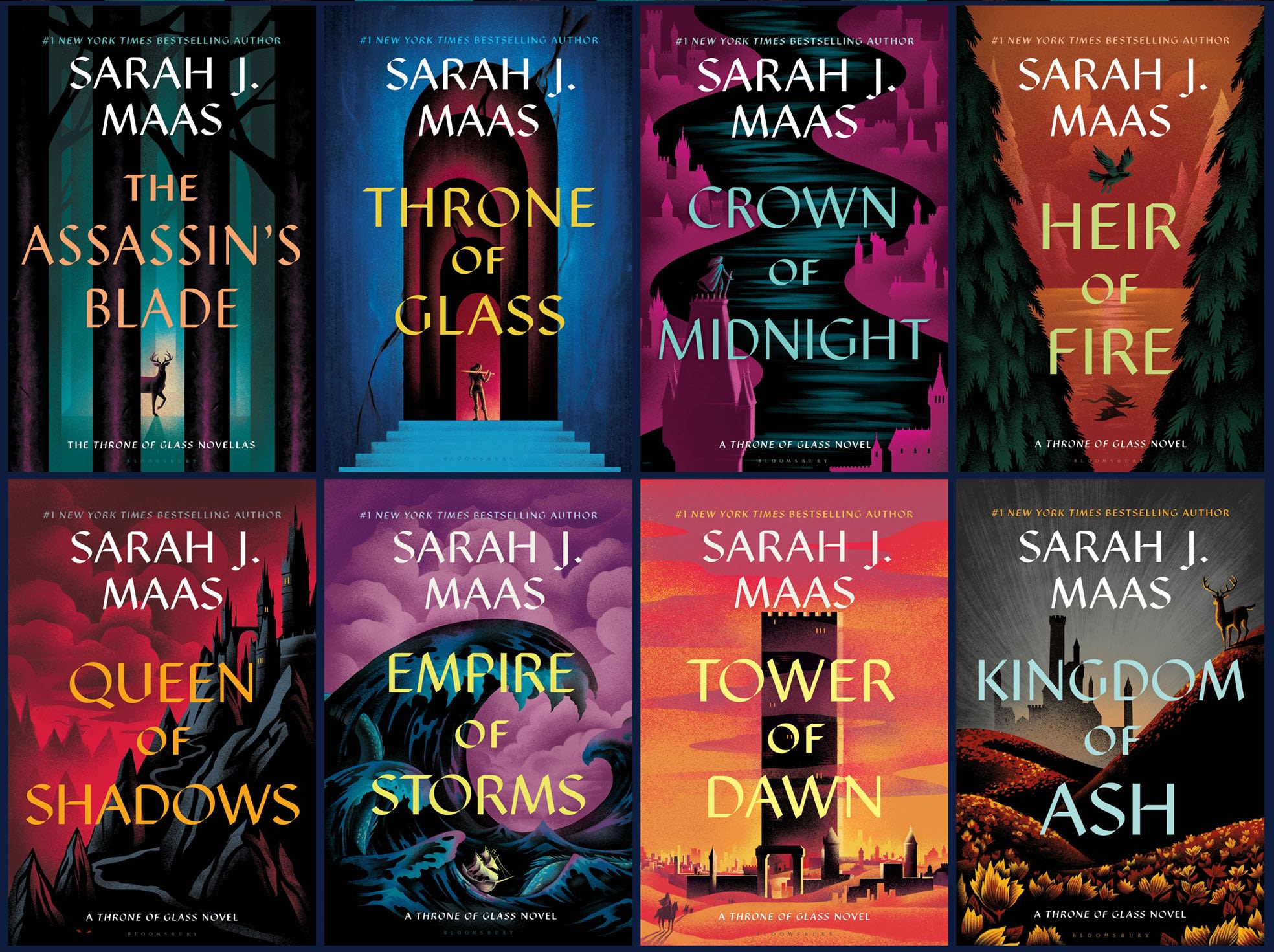 Hello everyone and welcome back to the blog! I am so excited to finally talk about the Throne of Glass (TOG) series. It's been a long time coming. I recently re-read and then finished the last two books of the series. So, let's get into it!
To be honest, I have no idea where to even begin. Please note that if you have not completed the series, intend to read the series at any point in time, are in the middle of reading the series… there will be spoilers in this post. I have many thoughts and theories that require me discussing the events from Kingdom of Ash. So, I advise you to stop reading now if you don't want to know anything about the ending.
Let's start with the characters since I am a character driven reader. We met a lot of people throughout the entire series, but I'm going to stick with the core group/my favorite characters. Otherwise, we would be here all day.
Throne of Glass has some of my favorite Sarah J. Maas characters. Aelin is just such a strong female heroin. She's smart and is always thinking ten steps ahead of everyone else. And as you read through the series, you can blatantly see the change from Celaena to Aelin and Aelin to Queen. Her snarky banter is something I loved throughout all the books.
Next, let's look at Rowan Whitethorn. Rowan is probably one of the best male characters morally speaking. He's loyal, a good warrior, strategic, and tries to not think with his emotions when it comes to Aelin. For example, when he was rescuing Aelin from Maeve. He listened to his cohort on when the best time would be to make their move instead of rushing into things ill-prepared. He's not my favorite male character overall in the SJM universe. He also reminds me a lot of Hunt from the Crescent City series. Plus, he's the original book boyfriend in the Sarah J. Maas universe. He's a warrior through and through.
The King of Ardalan, Dorian. He has such a tragic story to be honest. His father, the previous king, was possessed by one of Erawan's henchman for Dorian's whole life. Dorian came to hate his father; his father then tried to redeem himself in the end when he was finally out of Erawan's clutches. Then of course, Dorian is possessed for some time, and he never really recovers from that. At least, from what we see throughout the rest of the series. There's always a little part of him that is going to be haunted by the collars. Which is why it really surprised me when he went into Morath. I know it was just task and partly his responsibility but damn. It's honestly heartbreaking. I don't think I would've been able to go to Morath. It's like travelling to Mordor. Absolutely not.
My least favorite character is Chaol. The first time I read TOG I remember liking him even when he did some questionable things, but now…I just can't vibe with him. Tower of Dawn did redeem him a little, and I love Yrene. She is just the absolute best. So selfless and graceful. But Chaol had this very intense internal struggle of where he stood and who he stood with to the point where it was a fault of his. It became annoying. He was just annoying, and he gave Aelin so much shit. Chaol was just too self-righteous in the beginning books when he shouldn't have been.
Speaking of least favorite characters, Aedion is another one who I don't particularly care for. He was so damn stubborn and kept having all these regrets from what he said, how he said something, how he acted towards someone…like don't you learn? Ever since we meet him he has that internal struggle with himself. No wonder he was the last to get the blood oath. (I'm kidding, it was for entirely different reasons). I don't like how he treated Lysandra all through KOA. And despite everything, I wish he would've had more time with his father. Plus, Aedion and Lysandra's relationship is my least favorite.
One of my favorite relationships though, is Elide and Lorcan. I know Lorcan is controversial, and no one likes him. BUT Elide forgives him in KOA, and I think he went through his necessary redemption arc. I love how he is with Elide. He's gentle and patient but he also knows she can handle herself. I would love to know how their relationship evolves after KOA, since Lorcan is fae and Elide is human after all. Also, when Lorcan was under Maeve's mind control, he called Elide his mate…and then nothing further was said about that. I going to need a little more on that.
Also, can we talk about Elide running onto a ruined battlefield, with a huge damn about to burst, to find Lorcan. That was so badass, and that's when they ultimately became one of my favorite relationships. I wish we would've seen more of them in KOA though.
I don't think I can spend anymore time talking about characters. We would truly be here forever.  Let's move onto first impressions of Tower of Dawn and Kingdom of Ash. In my opinion, TOD was about 400 pages too long. I really wasn't looking forward to this book, and I probably would've enjoyed it much more initially if I read it in tandem with Empire of Storms. But I didn't have the mental capacity for that. On my next re-read of the series, I do want to try reading both at the same time. I've been people braek down the chapters online on how to read them both at once. I just read them in chronological order this time around.
I also couldn't believe that Maeve's secret about being a vlag queen is revealed in TOD. I needed a minute after I read that whole scene with the spiders. One, we all knew something was off about Maeve, she just gave off this bad energy. Two, I'm still shocked about her whole backstory. I never expected her to be vlag. Three, I feel like have giant spiders is a staple in Fantasy book...hello, The Hobbit!
One thing I really appreciated from TOD, was Yrene's story. We first see her in Assassin's Blade which is the prequel to everything. This one thread leads us all the way to TOD, and Yrene ends up being pretty important. She can kill Erawan…so yeah, she's important. From a writing stand point I really appreciate this because everything has a reason or purpose. Nothing is accidental especially in any of SJM's books. The same can also be said for Nox and Ren. We first see them in TOG, but I like that they come back to help Aelin. It look me a minute to remember who Yrene was, but I just love that this came all the way from the prequel!
Kingdom of Ash was honestly everything I expected it to be. The ending left me wanting more, but I think part of that is because I just read eight books of SJM material. The ending was bittersweet as everyone was departing from Aelin and Rowan's home.
This book really pulled at my heart strings. All the reunions made me so happy. Aelin seeing Chaol walking and so happy with Yrene. Chaol and Dorian finally back together. That reunion really got me. Aelin and Rowan once Aelin was rescued.
Which brings me to my next point...Aelin being tortured. My heart broke for her. I hated reading what they were doing to her, and for Cairn and Maeve to cause Aelin to fear her fire. That was too much. But I like the bond Aelin formed with Fenrys during that time and how he swore the blood oath to her. For Aelin to be so quiet and hollow after she was rescued truly heartbreaking.
Also, I thought there would be more death; I thought more of the main characters would've died. Now, the death of the 13…don't even get me started. That was gut wrenching. I loved the witch chapters throughout the entire series. And when Dorian was on the battlefield with everyone else, he kept saying how he didn't see any of the 13. Oh, I was in tears.
Manon and Dorian were another relationship I really loved. Their banter was everything, but their understanding of one another and the role they have to play. They understood the assignment.
Something fun I noticed when reading KOA was when Aelin was closing the Wyrdgate, and she's trying to find her home world. She's falling through all those portals, and she passes through Velaris. Which if you are familiar with ACOTAR you would know this is the City of Starlight. The book says, "She passed through a world of snowcapped mountains under shining stars. Passed over one of those mountains, where a winged male stood beside a heavily pregnant female, gazing at those very stars. Fae. They were fae, but this was not her world." (pg. 800). I had to take a second after reading this. It gave me the chills.
There are so many fan theories about how each series is connected to each other. There has been an announcement for the third Crescent City book, House of Flame and Shadow. A lot of people think this is where a lot of the worlds will cross meaning we might see Aelin and Rhys in this book. Aelin is the Queen of Shadows, has flame powers. Rhys' color is purple which just so happens to possibly be the color of the next book. So many possibilities. There are other reasons people have said, but I can't really appreciate them since I haven't read CC 2.
Just on Tiktok alone, you can fall into a very deep rabbit hole of theories. At the time of writing this, since I haven't read the second Crescent City, I've been trying to be careful with which videos I watch. But I really hope there is some truth to Aelin and Rhys coming back.
I know for a fact the ACOTAR series is not done yet based on how many books SJM has left under contract. When the third CC book was announced, fans also found out that SJM was signed for four more books on top of the three remaining her her contract meaning we are getting seven books in the future. However, it's not clear yet what series those books will be for. I'm just so pumped that we will be getting so much more content.
I'm really interested in where the rest of the ACOTAR series is going to go, and what exactly will be happening with Elaine and Azriel.
Overall, the series is a 5/5 stars. I love the world building, the characters, the relationships, the threads that are woven from the very beginning. I highly recommend reading her others series if you haven't already. They are as good; however, neither A Court of Thorns and Roses or Crescent City are finished yet. Just keep that in mind.
If you made to this point, thank you so much for reading. I might do a post about SJM universe theories. Once I've read through CC though. I can't be spoiling anything for myself.
Alright folks, this is finally the end. Come back next week for another blog post! As always thank you so much for reading!