The Friend Zone Book Review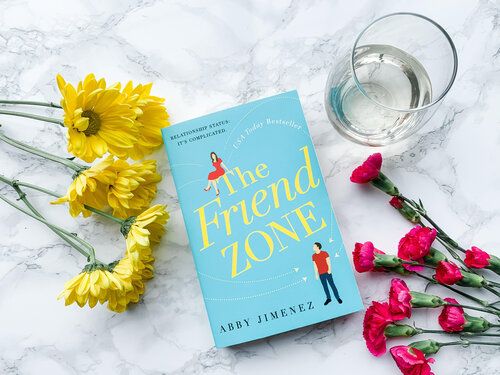 Hello everyone and welcome back to the blog! Today, I have a fun book review to talk about! So, just jump right in.
The Friend Zone by Abby Jimenez is about Kristen, who is coming to the terms with not being able to have kids. She has a sexy Marine boyfriend who her best friend hates and thinks she is settling for. The best thing about him is that he doesn't want kids, so her infertility problem isn't really a problem with him. Then she runs into Josh who is the best man at her best friend, Sloan's wedding...small world right? He is everything she wants and more. He's sweet, daring, fun, caring, etc. She falls for him right away, but the kicker is that he wants kids. A huge family. While Josh is head over heels for her, she keeps their relationship to strictly just friends to protect them both. I won't spoil the ending, but you get the idea.
I've read a book by this author earlier this year called Part of Your World (that review is up on the blog now), and that book was so good. I loved it so much. I do have to say that it's better than this one, but I still really liked The Friend Zone.
This was a nice refreshing book, as I have been in a bit of a slump lately. This was good to clean my head and to jumpstart reading again. It's a decent sized book at 350 pages, and the chapters are short which is always a plus in my book.
I loved the relationship between Josh and Kristen. I absolutely adore when the guy main character is head over heels for the love interest. It's not something that happens a lot in books, but I really like this trope. While they were both kind of hit with the love at first sight, they didn't just jump right into a relationship. Granted, Kristen has a boyfriend on deployment for the beginning of the novel. But Kristen did resist falling into a relationship longer than I thought she would. The whole almost crossing the line thing happened a lot and got a little repetitive, but in the end it was worth it.
This book was also a lot more sad than I thought it would be. There was a heavy topic of infertility. There were thing that happened that I honestly wasn't prepared for. Usually, these types of romance books are lighthearted (with a touch of heaviness). This was a lot more than just a touch. I don't want to spoil anything which is why I'm being so vague.
Overall, I would definitely recommend this book. Especially if you're looking for a break or a read slump stopper. I would give this a 3/5 stars!
Alright folks that is all I have for today! Come back next week for another blog post! As always thank you for reading :)