Rock Paper Scissors Book Review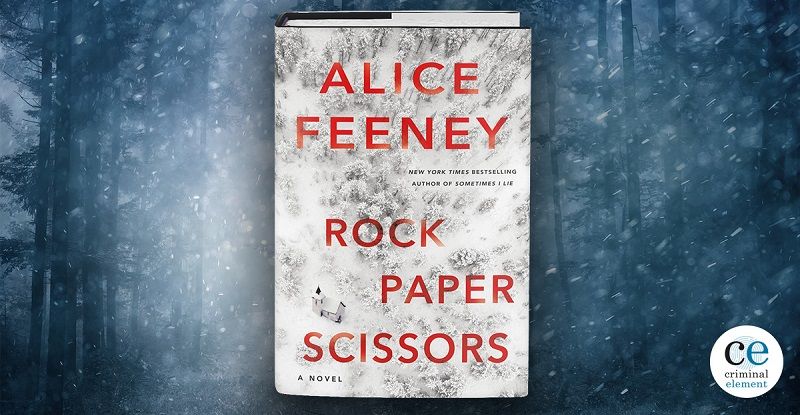 Hello everyone everyone! Welcome to Cover to Cover, and today, I am back with a book review. I am so excited for this one! It's been awhile since I have picked up a book that I didn't want to put down or what to stay up all night reading. I have so much I want to talk about, so let's get right into it!
The book I want to talk about is Rock Paper Scissors by Alice Feeney. This was my September book of the month pick, and I could not have picked better. I think this is my favorite pick so far.
To give some background, the story is about a married couple, Mr. and Mrs. Wright, who have been having some trouble with their marriage. They've grown apart and a weekend getaway to the Scottish Highlands is their last ditch effort to reconnect and fix their marriage. Amelia, the wife, supposedly won this trip in a work raffle. And Adam, is a husband who is a workaholic screenwriter trying to get his big break.
When I tell you this plot has twists and turns I am NOT joking. Every chapter revealed more mysteries. Each chapter would answer some of your questions, but also leave you with more! The book was told in four different perspectives: Adam, Amelia, Robin, and the anniversary letters that Mrs. Wright would write to her husband but never let him read. Those chapters would also provide so much insight and would basically spill all the tea, and you can see how every year the marriage went downhill more and more.
They are both lying to each other the whole time. There are so many secrets it's insane. Even until the very last page you find out things that are just crazy; and these things just really make you think about how you don't know these characters at all. For example, I won't give away one of the big ones, but I need to show you how deceiving these people are to each other. Amelia took Adam's phone out of the glove box before they left for their weekend getaway because she didn't want him working while they were there. She then lies to her husband about where his phone is when he says he can't find it. BUT Adam saw her take it out of the glove box and put it in the house, so he went back inside and grabbed it and had it with him the whole time. There are more lies in this book than actual truths.
One of the other things that I loved about this book was the fact that while the characters might not be that relatable you're still attached to their story. I don't have a lot in common with any of the characters in this book, but all the deceit and deception that they do to each other makes me want to read more. It's like a twist on the show "The Bachelor." Sometimes, you don't care for the contestants, but you care for the drama and the ending. Same thing.
I really liked the style of writing as well. Switching between point of views wasn't confusing at all. The other characters would pick up the scene the previous character/chapter left off on. So, nothing was ever confusing, and the only time jumps were the letters to Adam, but you understood the pattern of them as you kept reading. One every year for about ten years.
I was thoroughly impressed with this book. I couldn't put it down; I finished it in about two-three days from when I got past the thirty-page mark. I highly recommend this book especially for this time of year. It will definitely keep you on your toes. The amount of theories I had after every chapter was ridiculous. But I never really guessed what happened…well to an extent. So, obviously I give this book a 5/5. Seriously, you need to read this!!
Alright folks, that's all I have for today. Thank you for reading this far! Come back next week for another blog post!