Reminders of Him Book Review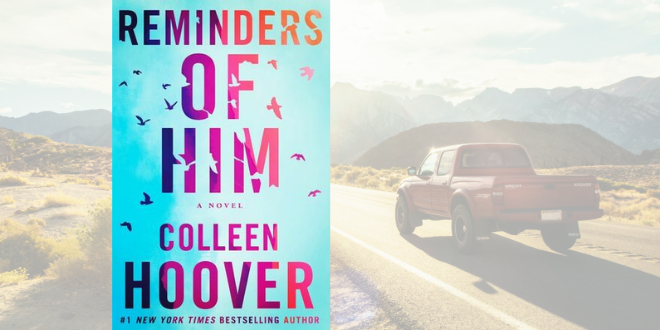 Hello, everyone! Welcome back to Cover to Cover! Today, I am back with another Colleen Hoover book review. I did not mean to have back-to-back Colleen Hoover content but here we are *shoulder shrug*.
Reminders of Him is Colleen Hoover's newest book! And while it just came out, I have seen this book all over my Instagram and TikTok feed. So, there is already so much hype surrounding this book. Let's get into it!
I do have to add, when a book is so hyped up (like all of CoHo's are) it usually means they aren't actually good. I HATE reading TikTok recommendations because so far I've had such a bad track record with them. I feel like my expectations soar when I constantly see good review...obviously. That's why I don't read book reviews before I decide to read something/anything any more.
However, I did really like this book. This was actually my book club's March pick! There were a lot of things I liked about this book. One being the alternating perspectives. I LOVE when we get both sides to the story. Not only does it validate each character, the reader gets to experience the story in two different ways. The main characters, Kenna and Ledger were so different from each other so that having the POV of both was really beneficial, especially seeing Ledger's internal struggle. It really adds some depth to his character.
I also really liked them together. Their chemistry worked; it didn't feel forced. Hoover's female characters tend to be strong and able to defend themselves which I also love, and Kenna is no exception.
The premise of the whole story is really sad, and honestly not what I was expecting, but it didn't seem too cheesy either. I feel like sometimes when the main character has been in prison/just released from prison it gets a little too much like "Orange is the New Black."
This is also a really fast and short read! The chapter weren't long either which is always a plus.
The only thing I didn't like is Kenna's daughter's name--Diem. Like what? Why does Colleen Hoover pick the weirdest names for the main character's children??The story behind it is cute but I don't know I just think it's too quirky and try-hard.
Overall, I would give it 4/5 stars! And I would definitely recommend this Colleen Hoover book over Ugly Love and It Ends with Us. BUT Verity is still the best I've read so far from her.
Alright folks, that's all I have for today! Come back next week for another post! As always, thank you for reading :)