It happened One Summer Book Review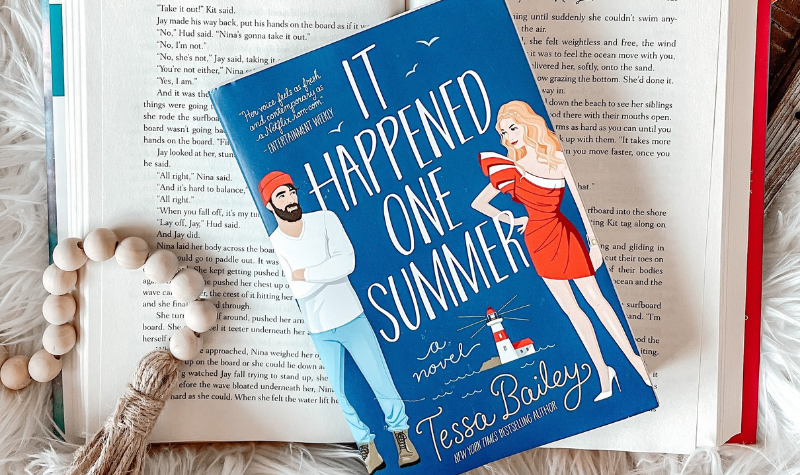 Hello everyone, and welcome back to the blog! I have such a cute summer romance book that I recently finished and can't wait to talk about. So, let's just get into it!
I was nervous about this book and was half expecting to not like it but that was not the case. This was such a feel-good summer read and would definitely make the perfect poolside book.
For backstory, this book is about Piper Bellinger who is a famous party girl with major rich parents. One night, she takes things a little too far and gets arrested. Her step father is done with her behavior and sends her to the small town of Westport. The place where their mother met their father. There she meets Brendan, a captain, who she keeps running into. However, her mother warned her against dating sea-faring men because of how dangerous their job is.
At first, I wasn't a fan of Piper because she was the typical rich LA girl who came off as entitled and spoiled and I just wasn't going to be able to tolerate that. But her character development was done so well. This book was literally a Hallmark movie in a book which is not a bad thing at all. Like I said, I was a little wary of Piper at first but she quickly starts to prove herself by embracing her situation and really starts helping out the community.
I love Piper and Brendan's relationship. It's so sweet and romantic and it just makes your heart melt. And I love reading about the relationships where the guy is all in from the beginning. I think it's cute.
This is a very short read. I believe this book is about 340ish pages maybe a little less. But the great thing is that this is a duology. So, the other book that takes place in the same universe is about Piper's sister, Hannah. Who we do meet in this book and it starts to set up her story. I really want to read that one, but you do have to read this one first. Or at least, I would recommend reading this one first.
The only thing I didn't really care for was how the step father didn't even show up to the small town to see all of Piper's progress and everything she did for the small town. I don't think there was enough closure there when I think there should have been given that Piper was in this small town because of him. Other than that, I thought this book was super cute, and I loved every second of it.
Overall, I would give this book 4/5 stars! I would definitely recommend. Tessa Bailey also has a lot of other books as well that I really want to check out.
Alright folks, that is all I have for today! Come back next Wednesday for another blog post and as always thank you for reading :)