Is Fourth Wing Worth the Hype???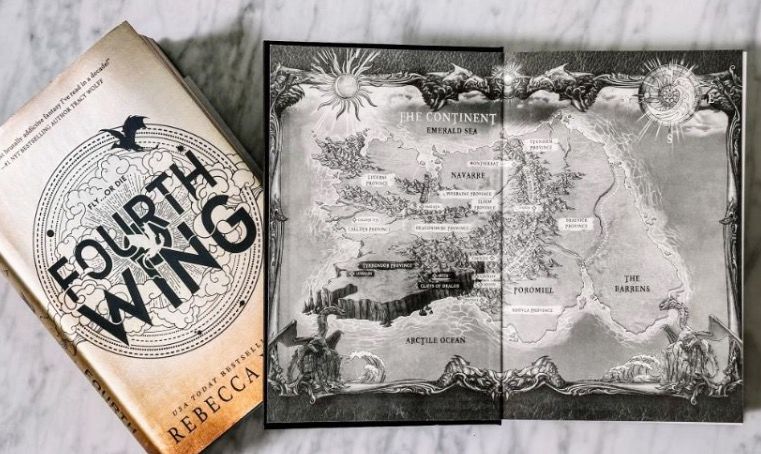 Hello everyone and welcome back to the blog! I am so excited for today's blog post because I was finally able to get a hardcopy of Fourth Wing. My social media pages have been plastered with Fourth Wing content even months after it was released in May (2023). It has been a book that I've thought about reading many times, but I'm a skeptic when it comes to overly hyped books on the internet. Most of the time they end up being duds...to me at least. Now having finished Fourth Wing, I can confidently say the hype is real. So, let's get into it!
(This is a spoiler free review)
Books that are constantly hyped up on social media tend to leave me a little less enthused because most of the time the book isn't even that great. Of course, this is just my opinion, and I have loved some of the books that have been all over social media before. Fourth Wing kind of came out of nowhere. One day it was just all over Tiktok and since then I have seen it everywhere.
I dabble into the fantasy realm every once in awhile. It's not my favorite genre, but it's one that I do like and will read from time to time. I'm a mood reader if you couldn't tell by now. When I had bought this book, it was just freshly stocked at my local Barnes and Nobles. Occasionally, I would look for it when I was out and about...but I wasn't searching high and low. When I did buy it, I think there were at least ten copies on the table which is the most I've ever seen in one place. My fiance was actually the one to point it out because even he had heard of it!
Fourth Wing follow Violet Sorrengail as she now is forced to become a dragon rider per her mother's instructions. She had been training her life to live a quiet and fulfilled life as a scribe. Violet is smaller and her body is more brittle. She doesn't want to the dragons to see her as "weak" or "fragile" because dragons won't bond to a human they think of as fragile. With fewer dragons willing to bond with humans every year, Violet is determined to be successful. As every day passes, Violet is growing stronger and stronger. But the wards protecting the kingdom are failing, and Violet thinks their leadership is keeping secrets. She needs to survive.
To answer the question, is Fourth Wing worth the hype? Yes, yes it absolutely, 1000% is.
I flew through this book, and reading it for the first time reminds me how I felt when I read Throne of Glass or A Court of Thorns and Roses. Two series I deeply treasure, and it just makes me so happy to find that feeling again in a book. It's different than just reading a book you know is going to be a 5 star read. It's a different kind of feeling. One I don't even know how to explain. But it's like finding a new favorite sweater that you know you are going to wear until there are holes and the fabric is unraveling, but you're obsessed with it.
I saw the author, Rebecca Yarros, give an interview saying that this book was meant to bring people into the fantasy genre. It was meant for the readers who love romance and don't really dip their toes into fantasy, and I think she did an amazing job of doing so.
The book, the plot, the world, isn't overly complicated. It's easy to grasp onto the rules, to the structure, the way things are, the magic, etc. And who wouldn't love a world based on dragons? I have read dragon books in the past, but none of them compare to Fourth Wing. Everything was just so well done.
The characters are even better than I imagined. I love and adore Violet. She's so headstrong, determined, and doesn't take shit from anyone. She's different than other female main characters (FMC) I've read before. While I was reading, I spent a lot of time comparing this world to any SJM world. Mostly because they are on the same level for me. Now Xaden was everything I had pictured and more. He was swoon-worthy, and I loved his protective nature towards the people he cared about. He was like Rhys and Azriel all wrapped up into one person. I don't want to say too much because I can't ruin it if you haven't read it yet. But, go, read it right now. You won't be disappointed.
All of the supporting characters were also amazing. Ridoc, Liam, Rhiannon, Sawyer...I loved all of them. The banter, the friendship, the support, it was so charming. Especially considering they are in the war college.
THE DRAGONS. Their personalities and how they govern themselves is so interesting. The way they interact with the humans, how they bond, the power they give their rider, its all very intriguing.  
There are a lot of questionable characters as well like Violet's mother, Lilith. In my opinion, when I hear the name Lilith I think of a villain or some kind of evil connotation. She's very cold towards Violet. I've seen many fan theories about her, and I'm not sure which side I fall on yet. Side note: I have seen so many fan theories that I may just have to make a second post to show off the ones I believe plus some predictions I have.
Then we have Dain. I hate him. He gave off Tamlin vibes from the very beginning, and those characters that are loyal to the rules and only the rules are the ones you need to watch out for. I won't say anymore.
Overall, this is a 5 star read, and I cannot recommend it enough. Even if you're not a big fantasy person, read it. It's the perfect book to dip into the fantasy world with because its not overbearing. It's going to be a 5 book series. The second book, Iron Flame, comes out this November (2023), and I've already pre-ordered it. I can't wait an extra 5 months searching for a hardcopy.
Alright folks, that is all for this week! Come back next week for another blog post! As always, thank you for reading:)