Bookish Gift Guide!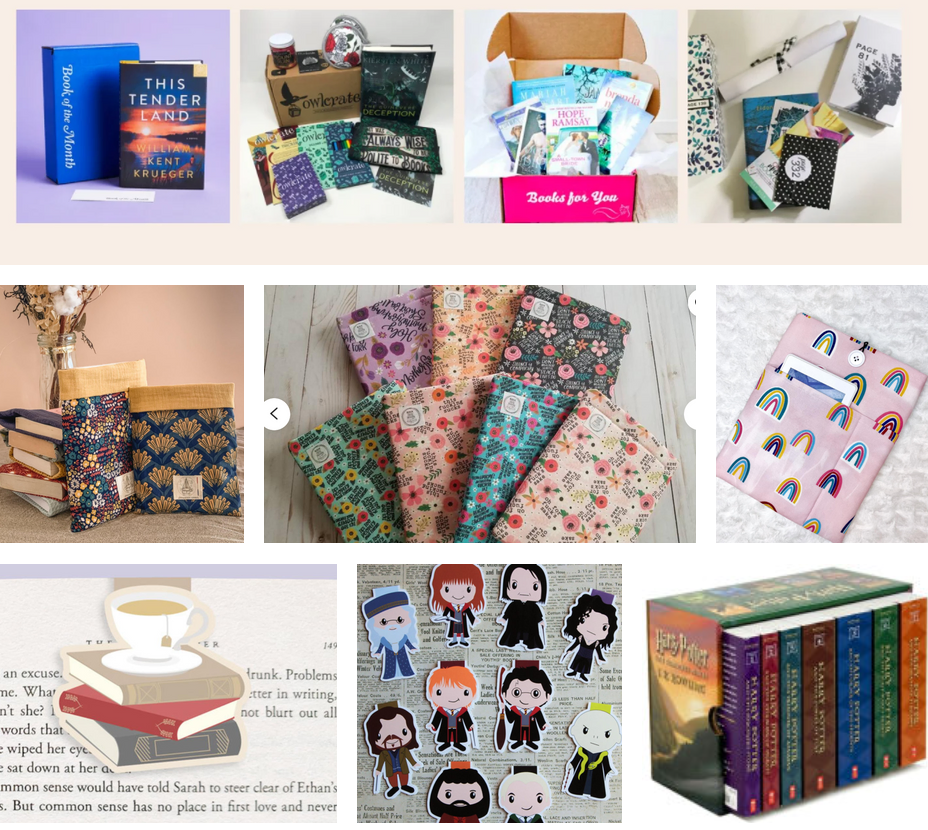 Happy Holidays everyone! It's getting super close to the most wonderful time of the year, and I couldn't be more excited. Finals have just wrapped up, so I'm ready to get into the Christmas spirit! I've been asking my friends what they want for Christmas because I want to get them something they'll use or something they need. So far, everyone has been telling me, "I don't know" which doesn't help me. I feel their pain though because I had no idea what to tell my parents. So, to help with the gift-giving craze, I decided to make a gift guide for anyone who has friends who love to read. Or if you don't have friends who love to read, still feel free to peruse the list to see if any inspiration hits.
1. A (one-time) book box subscription
There are a ton of different book box subscriptions on the market right now. I follow a lot of book TikTok-ers and they always talk about different subscription services. You usually get a themed boxed depending on the book. The authors range from well-known to more indie type authors. And there are usually little book-ish trinkets that come along with it like pins, playing cards, tea, mugs, reusable tote bags, etc. Sometimes, the book they include is a special edition or even signed. Not every subscription I have mentioned below will have extra goodies because there is a big variance in prices. Just know your audience and what kind of books they like to read. Owl Crate is more young adult whereas Fresh Fiction Box is mostly fiction and romance. There's a book box for every type of reader!
I did a one-time subscription to Owl Crate where I received a book, a pin, playing cards, a bookmark, and a book plate from the author. This is a really cool and unique gift I think any book lover would be ecstatic to receive. Its cute and thoughtful. You can always order a past box if you think they would prefer that book over the current months. Sometimes past boxes are even discounted!
Here are some subscriptions that I have heard and recommend:
Owl Crate (29.99 per month)
Once Upon a Book Club (34.99 per month)
Book of the Month (14.99 per month)
Fresh Fiction Box (24.99 per month)
Book Worm Box (29.99 per month)
2. Book Covers or pouches
I love book covers. It is basically just a fabric pouch that you can slide your book into when you're traveling so it doesn't get damaged. I have two, a small one for those really small, half-sized paperback books, and a slightly larger one for the traditional sized paperback book. They are so cute and there are always so many designs to pick from. You can choose simple floral designs, character patterns, fandom fabric, animals, seasonal, etc. The best place to find them is on Etsy. Now I know some people are sketchy of Etsy, but I have a list of shops I have purchased from that I think are great! I really love the one I bought from a store called BookNook Sleeves; it has little hedgehogs reading on it, and it's absolutely adorable. It's pretty big, so I can fit most paperbacks in it. Some sleeves are fancy and have pockets and zippers, personally, I'm okay with just a basic sleeve but the fancy ones also look really nice. I also have a smaller pouch for small paperback books from RockPaperWoods. It has little colorful mushrooms on it. I really like it because of how small it is; it doesn't take up a lot of space. And I also just made a purchase from CPickeringCo. They have some really fancy book sleeves. I've never bought from them before, so if they end up not working out I'll definitely give a review, but they had such pretty designs so I got one for me and my friend.
BookNook Sleeves (price varies depending on size of sleeve but can range from $15-20)
RockPaperWords (prices range from $15-19 because of varying sizes)
CPickeringCo (prices range from $15-26 because of sizes and additional features such as button clasp and pockets)
3. Bookmarks
This is always a simple small gift, a little added feature for any book nerd. I always appreciate a cute bookmark I can use when reading. Barnes and Noble always has cute ones. I love the Bob Ross one I got from there over the summer. There are also a bunch of Etsy shops that sell those magnetic bookmarks. All you have to do is search "magnetic bookmarks" on etsy and a ton of them will come up. Then it's just about finding what you or who you're buying for would like. They have all different fictional characters to choose from. I've had my eye on a baby Yoda and Celaena (from Throne of Glass) ones. The thing to watch out for is that these can get really expensive really fast. But its all about supporting small businesses so when in doubt you're also doing a good thing. At least, that's how I justify it.
4. Journal and pen set
For some this may seem like an odd thing to have on the list, but I think it makes sense. I love to read which means I also love to write. I know not everyone is like this, but for book nerds having a nice journal is something we'd freak out about. I love getting new journals especially the fancy faux leather ones. It can also be used as a reading journal to track what you read, ratings, thoughts and opinions on books read, etc. A lot of people are into bullet journaling, so you could always make sure the journal doesn't have any lines. Barnes and Noble has a huge journal selection. There are so many different colors and such a variety of different types. You'll be sure to find something. You could also look on Amazon; they always have great deals. Or even Marshalls and TJ Maxx, they always have some cute ones.
5. Box Set of favorite series
Something simple you can do is to just get books. Ask them if they want a specific book because odds are, they have a list of books they want to get. Sometimes, people wait for the whole series to come out until they pick it up and read it which means you can always get them a box set. A box set means it has all the books in the series that are out at the moment. For Christmas, I actually asked my dad for the Throne of Glass series box set. I also like when all the books I have in a series are either all in hardback or all in paperback. It throws me off if some are hardback while others are paperback. These definitely vary in price because some series are longer than others. I know the Throne of Glass box set is on the higher side because there's 7 books; and whether or not all the books are hardbacks or not makes a big difference in price as well. They are a ton of box sets at Barnes and Nobles, but sometimes Amazon is cheaper. I would just price check your series at different places.
6. Gift card to the bookstore
If you're not sure what books they want or what genre they are interested in, you can always get them a gift card and let them pick. I use to think gift cards were impersonal to give, so I never gravitated towards them. Now that I'm older, I would rather let them pick what they want than get them something they don't want. Plus, gift cards don't expire, so they don't have to use it right away. If they are backlogged on books, they can wait to purchase a new one.
7. Book merch
Okay so what I mean by this is mugs, shirts, crewnecks, stickers, candles, etc. from their favorite series. There are so many stores out there that make candles that smell like certain fictional characters or t-shirts that have sayings from different books. Red Bubble sells all kinds of things that you could personalize towards a certain book fandom. They have mugs, stickers, coasters, magnets, pencil cases, you name it. There are also so many Etsy stores that will print make shirts with different quotes from books. I just found a shop on TikTok called The Dear Writer Co. They make shirts and crewnecks centered towards a bunch of different fandoms, and honestly, it doesn't seem that expensive. Plus, you'll be supporting a small business. They even have Throne of Glass and A Court of Thornes and Roses crewnecks which I'm so tempted to buy!
I hope this gift guide helped some of you or at least gave you some ideas as to what to get your friends! I feel like even non-readers would really like some of the things on the list. Happy shopping!