Blind Date Book Review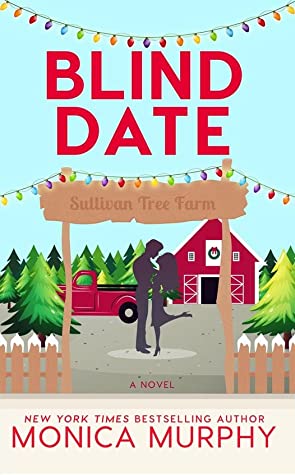 Hello everyone! Welcome back! Today, I have another book that I want to review and talk about. Keeping with the holiday spirit of course. Lately, I've been really into cutesy, romantic, holiday books as I'm sure you can tell. That doesn't usually happen to me, so I'm just rolling with it. It has put me in the Christmas spirit even though we still have Thanksgiving. Don't come for me. But, let's get right into it.
I just finished Blind Date by Monica Murphy. She actually has a lot of books out right now. Although, I had never heard of her before. I stumbled upon this book on Amazon when I was looking up different Christmas romance books as one does. This one actually sounded pretty good.
It's about a woman, Amelia, who just got out of a really bad relationship. She's basically a Scrooge in the beginning of the book. She hates Christmas, just wants to be miserable, etc. And she knows that she should start dating again but is hesitant. So, her friends set her up on a blind date.
Enter Isaac. He works at a Christmas tree farm with one of Amelia's friends. He isn't necessarily looking for love, but he's single and is open to the idea. Everyone loves him, he's a hard worker, very sweet, etc. So they are set up to have a blind date at a wedding, and I don't want to give too much away but it's cute and whimsical.  And of course they both have their doubts, but will they make it work? Guess you'll have to read to find out.
There were a lot of things I liked about this book. One, it's a really short and fast read. I'm talking less than two hundred and fifty pages. I read this in about a day. If you're really determined and have the time, you can totally read this in one sitting. Two, it's a holiday book and will give you that Christmas spirit you need. It definitely got me ready for Christmas. Three, the main characters are relatable, especially Amelia. I love being able to relate and connect to the characters as any reader does. Four, I feel like the author did a really nice job of integrating the background characters. Sometimes an author has too many side characters that they eventually just all blur together. And while basically all of Amelia's friends are the same for some reason it was really easy to keep these ones straight. And all the extra characters didn't weigh the story down or take away from the plot or even Amelia and Isaac. I feel like some writers struggle with that, so I really appreciated it in this book.
However, there are still a couple of things I didn't like. Just a few things though. One, so Isaac is five years younger than Amelia. I believe he's twenty-one and she's twenty-six which is fine, but sometimes Isaac's dialogue made him seem a lot younger than he really was. And sometimes it was really cringey too. I totally understand wanting to make him noticeably younger, but god, it was a little too cringey for me. Like putting the book down, I need a minute to get over my second-hand embarrassment for a fictional character cringey. Intense, I know, but I just want to warn you in case you decide to pick this book up. The only other thing I didn't like was the glossy book cover. I'm not sure if the author had a choice in it, so I'm not going to put too much weight on it. Something like that wouldn't keep me from reading a book, of course, but I just prefer/like it better when it's matte. You don't really see too many glossy covers on paperbacks anymore.
Overall, I would give this book a ⅗ stars. I thought it was really cute, and I really liked how fast you can read it too. It won't take long at all! It's on Amazon and very inexpensive.
Alright, folks! That's all I have for this week. Come back soon for another blog post! Thank you for reading :)