All is Fair in Love and War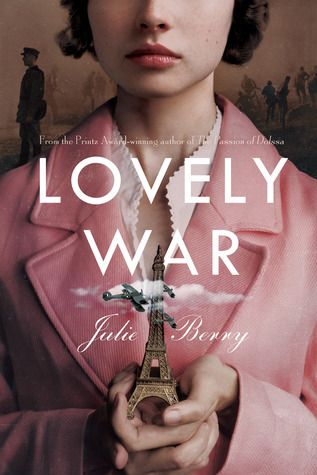 Welcome back everyone! Today I am back with a book review! I just recently got out of my reading slump and it's all thanks to the book, Lovely War by Julie Berry. I first saw this book on TikTok, and the person who reviewed it raved about it and went on and on about how it's such a great book. It is a historical fiction book which is why I was really excited about it in the first place. So, let's get right into it!
Lovely War is about World War I love and battle stories told by the Greek Gods. I'm talking about Aphrodite and Ares, Apollo and even Hades make an appearance. If you are not versed in Greek mythology, Aphrodite is the Goddess of love, Ares is the God of war, Apollo is the God of music, and Hades is the God of death/ruler of the Underworld.
The story starts with Aphrodite caught having an affair with Ares. She is married to Hephaestus (who is the God of fire and brimstone, just think of fire and volcanoes basically). Anyways, her husband catches them and wants to take them to trial in front of every God and Goddess on Mount Olympus. Aphrodite is against this idea from the start and suggests that Hephaestus has his own trial in the hotel they are in, and he can be the judge. He presents his evidence which is every time he has caught them together. When it comes time for Aphrodite to present her evidence, she says she wants to present four different love stories.
Throughout the novel, the different Gods (called in as witnesses to the trial) present their part of the story. The main characters are Hazel, Colette, James, and Aubrey. Hazel and James meet one night at a dance and really hit it off. She is there playing piano and James is there to get his mind off of being drafted and leaving for the war soon. They become a part of a whirlwind romance. When James leaves they, write letters and try to meet up in France whenever they can. Colette is a singer who meets Hazel while they are both volunteering at a YMCA relief hut for the soldiers. They become good friends. While they are volunteering, they meet Aubrey; a black American soldier who loves to play jazz music in his band for the other soldiers. All four characters become a part of the same story. James and Hazel and Colette and Aubrey.
As I said before, there are other Gods that tell different parts of their stories as well. Apollo will tell the musical part like when they are performing together. Hades comes in when the character has a brush with death either themselves or someone they know. But it all comes back to Aphrodite and the love the characters have for one another.
At the end of the book there is an index about the different infantries, people, women during the war, etc. mentioned in the book. Julie Berry clearly did her research and incorporated many true events and people, and I really liked how this book was true to that. I love reading about the World Wars whether its all non-fiction or historical fiction with a little embellishment on the side like with this story. The author still made it feel like you were reading a war novel, but spared you from a lot of the gore from the front line battles (sort of). She mostly focused on the women and the part they played.
I highly recommend this book, even if you're not that into historical fiction. I think the Greek God part would be able to carry you through it. Or even the love story of the characters and all the trials and obstacles they have to go through. There are also a lot of important motifs that played a part in this book. For instance, the one that stuck out the most to me is that people/soldiers discriminated against the black American soldiers. Americans wanted to send the black soldiers to Europe so they didn't have to deal with them. And even over there, they still faced discrimination, backlash, and threats. I found it interesting because they are all there to fight against a common enemy: Germany. And yet, they still choose to fight against one another. There are bigger fish to fry than who you are fighting with. I'm sure that's how it really was too which is heartbreaking.
Another thing that stuck out to me was how hard these men had to fight. While there were men who threatened soldiers of a different color, there were also men out in the trenches, fighting alongside their friends, who were still selfless. James was in a situation where he had to get his friend, who was badly hurt, out of the trenches. If he was going to make it, they needed to get him help. The soldiers on the battlefield looked after their friends. They  didn't want anyone left behind to die or become a POW. They were like a band of brothers if you know what I mean. They put their lives on the line even if that meant dying and leaving behind a family at home. No one knew when the war was going to end.
This book had my attention from the very beginning. I never wanted to put it down, and like I said, it got me out of my reading slump! I already finished another book after this (blog post on that coming soon)! So, I highly recommend!
As always, thank you for reading!